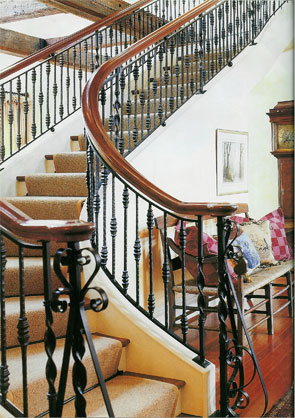 Email us at: eric@erharvey.com

A History of Custom Metal Work
As a fifth generation wood and metal working craftsman, you could say that Eric Harvey was born to custom craft metal. This rich history, and fourteen years of blacksmithing, custom metal fabrication, and working with wrought iron gave E.R. Harvey Metalworking the opportunity to provide balustrades to a technically challenging staircase.
The homeowners, who were always an integral part of the design process, loved the design; the craftsmanship; and attention to detail, such as testing full-size samples in their home to ensure a great "look" and a precision fit. The project was soon expanded to include exterior wrought iron work for their balconies and gates. Sand-blasted, powder coated, and baked-on, the enamel provides a completely sealed finish for all exterior wrought iron pieces… Made to military specifications…For a lifetime of no maintenance.
E.R. Harvey's reputation continues to grow, because the attractive, structurally sound work is completed on time & on budget.
Also offering metal fabrication and repair of every kind, from basic structural components like columns and brackets, to weathervanes, to the railing at the front door; agricultural services such as parts repair and fabrication for specialized applications; and the ability to work a variety of metals, E.R. Harvey Metalworking continues the tradition of quality craftsmanship here in the U.S.A.
Please, if you have a design you'd like to discuss, an idea, a firm plan, or anywhere in between, give us a call or reach us through the contact us link at the top of the page. We'd love to hear from you.