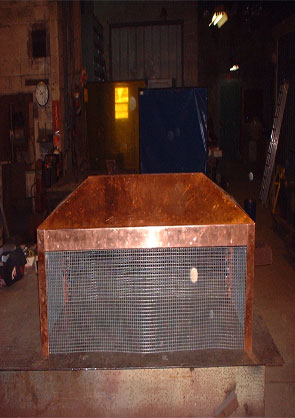 Email us at: eric@erharvey.com


Metalworking Services
As a fifth generation wood and metal working craftsman, you could say that Eric Harvey was born to custom craft metal. This rich history, and fourteen years of blacksmithing, custom metal fabrication, and working with wrought iron gives E.R. Harvey Metalworking the knowledge necessary to handle any type of metalworking project.
Metal fabrication and repair of all kinds are possible. Basic structural components such as lolly columns, custom brackets for unusual roof angles, and joist brackets. Weathervanes, chimney caps, gates, baulustrades, and railings. Tanks, truck bodies, and tractor parts. A variety of metals such as stainless steel, aluminum, copper, brass, and steel. An 18,000 sq. ft. shop, a ¼" thick 10 ft. shear, a 125 ton press brake and a 10 ft. roller. With E.R. Harvey Metalworking, anything metal is possible
Please, if you have a design you'd like to discuss, an idea, a firm plan, or anywhere in between, give us a call or reach us through the contact us link at the top of the page. We'd love to hear from you.